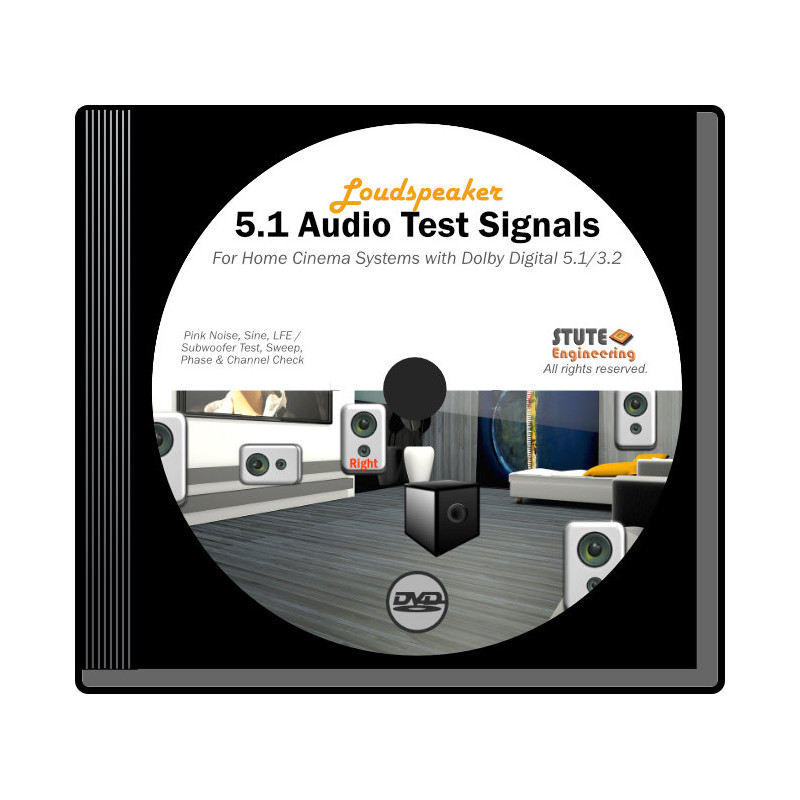  
5.1 SURROUND SOUND AUDIO TEST DVD
Signal types: sine, sweep, noise, phase. Ideal also for use with a PC audio analyzer. 
Privacy
Shipping / Return
Terms & Conditions
With the video DVD you can optimize the surround sound in no time. It also supports you with the purchase, such as the selection of the subwoofer. Test signals from 15 Hz show which subwoofer produces the best low bass. Helpful: The included chapter list shows the signal overview grouped by color and states the intended use.  
What the DVD does:  
Signal output per channel (Dolby Digital 5.1) for best possible results.
Supported channels: Front Left, Front Right, Center, Rear Right, Rear Left Subwoofer/LFE
49 DVD chapters for quick selection of test titles
In total 244 test signals
TV shows current signals and output channel 
Examples of use:  
Measurement of frequency response via "Pink Noise" and free "RTA Analyzer" app for cell phone
Frequency response measurement via "white noise" and FFT cell phone app or PC audio analyzer, like stute.x1A
Sound improvement by measuring and correcting the frequency response via EQ / tone control of the home cinema receiver
Acoustic subwoofer test with signals starting at 15Hz
Acoustic test channel assignment (wired correctly?)
Acoustic test speaker polarity (+/- reversed?)
Identification of vibrations in loudspeaker, stand or furniture with sine or sweep signal
and more...
7 other products in the same category:
Customers who bought this product also bought: